Tariffs
Tariff for private persons:
Consultations 1 till 1½ hours - € 55,-- per person
Business tariffs in mutual agreement
Workshops for any number of participants - € 55,-- per hour
per hour, plus travel-expenses, with a minimal
workshop-time of 3 hours.
One full day Mandala-drawing
incl. lunch, coffees and teas per person - €55,-- per person
with min. 5 participants
Gift-tokens for a Tarot-reading can be ordered by mail.
House clearance - € 75,-- plus travel expenses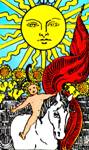 CONSULTATION
Tarot & Numerology
by
Agnes van de Beek
Who am I
Where am I
Where am I going
Questions about:
Work
Relationship
Health
Decisions to be taken
Handling certain situations
Agnes van de Beek
Keizersgracht 42 E
1015 CR Amsterdam
tel.020-4202975
e-mail: agnes@moederaarde.eu
www.moederaarde.eu
06.51.600790