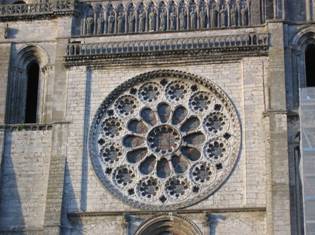 Chartres, mandala in stone and glass
Workshop design your own Mandala
One day of Mandala-drawing. Working in the magic circle from the centre to the outside and from outside to the centre. Playing with your feelings, translating into colours, a personal pilgrimage.
By drawing your mandala in the circle, you find yourself in a protected space; you create light on your inner-presence. The circumference of the circle is in principle the borderline, within which one can explore, investigate, control or break-through.
The aim is to come into harmony and balance. We become the centre of the Mandala, which represents the world around us.
From 11.00 - 17.00 hours
Incl. coffee, tea and lunch
Minimum number of participants: 5
Price € 55,-- p.p. for a one-day workshop.
Location Amsterdam or in agreement somewhere else.
(to bring compasses, drawer, coloured pencils and/or watercolours.
Special paper will be provided)
A reading by me will be done on the created mandala for personal
use.